October 10, 2002: Greetings from Urumqi
Howdy,

I've just splurged and gorged myself at a western buffet at the Holiday Inn in Urumqi (yes, you read it right – owned by a Chinese outfit and managed by Holiday Inn). Include some red wine (local stuff – red, nice 'n dry) and I feel quite comfortable! I thought I'd get this off to you guys 'cause I've got a stretch of travelling ahead of me and I don't know what the odds are of finding a place to send you messages. Once again, though, thanks for your notes – I really appreciate them.

I ended up my stay in Kashgar by making a deal with Mechmet, a local taxi driver, to drive me out to the dunes and the day with him. It was fun although quite far -the Taklamakan Desert isn't simply as close as Brentwood Mall. This particular piece of dunes stretch for about 40 km. and it was … well, sand. One forgets that it isn't often that you get those beautiful huge pristine dunes like one sees in brochures – these were certainly shaped like that, but they had quite a bit of scrub grass growing out of them. And, of course, there were the inevitable camels available with their jockeys (or, at best, their handlers -old buggers looking to make a buck). I declined to take a ride – I ceased to imagine myself as Lawrence of Arabia a long time ago. But it was fun walking on top of the dunes – even took a picture of a tiny sand lizard who was rather quizzical and, of course, the inevitable camel.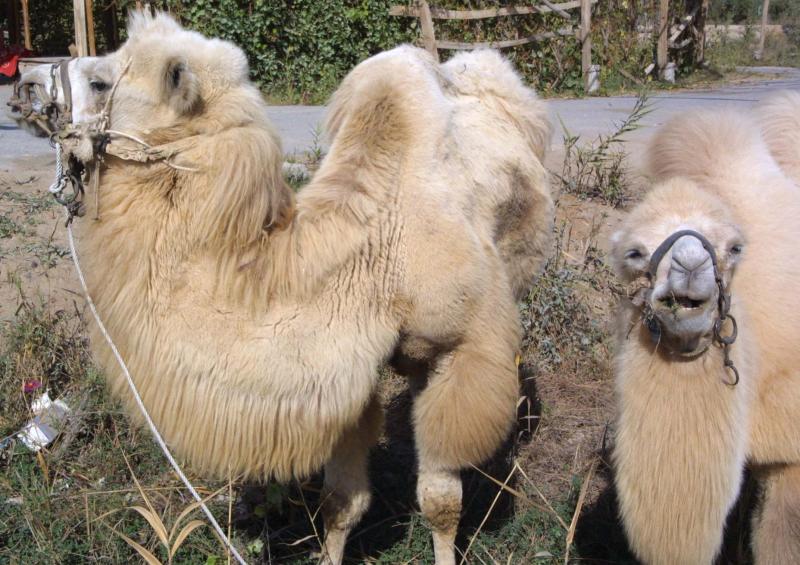 I came back from the dunes to find that Mechmet and his buddies were sitting on some mats on a raised platform eating melons – honeydew, water and a papaya-type of melon.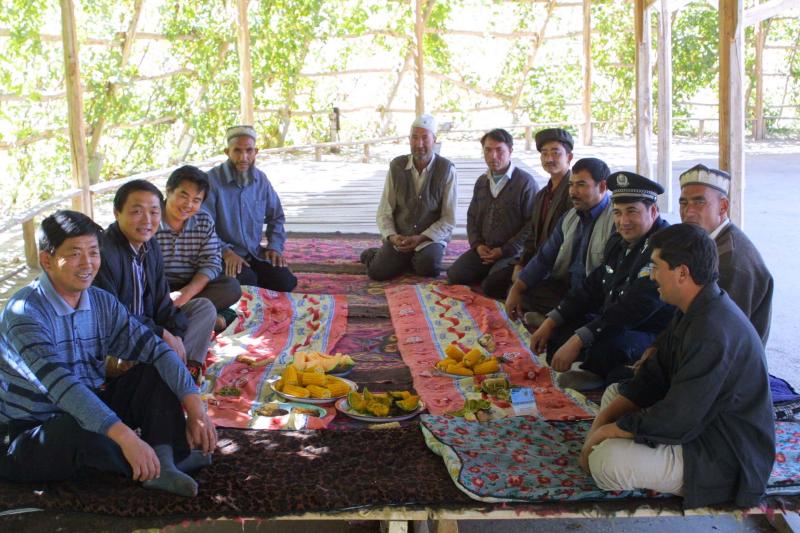 They invited me to join them: Mechmet (sitting at the right hand corner), the local police guy (he looked the part – burly), the local water district manager and his visiting counterpart from Sichuan province plus a couple of other guys. The melons were followed by corn on the cob (yes – there's a lot of corn grown in that part of the province as well as cotton) and then we had what looked like burnt corn on the cob. You pick it up, bang it on the mat a couple of times to get the ashes off and eat it! By the time I finished one cob, these guys had finished two or three – not chewing their food 28 times as I was taught. I think they'd give some of you a run for your money in eating quickly. There was also some baked squash which I kindly declined – not one of my favourite dishes. However, that lunch bit was a nice touch.

We then drove into Yarkand (another city on the Silk Road with its shades of the Great Game and former sultans and such) and went to the local mosque. It was prayer time and it was interesting to watch the men washing their feet, hands and face prior to entering the mosque.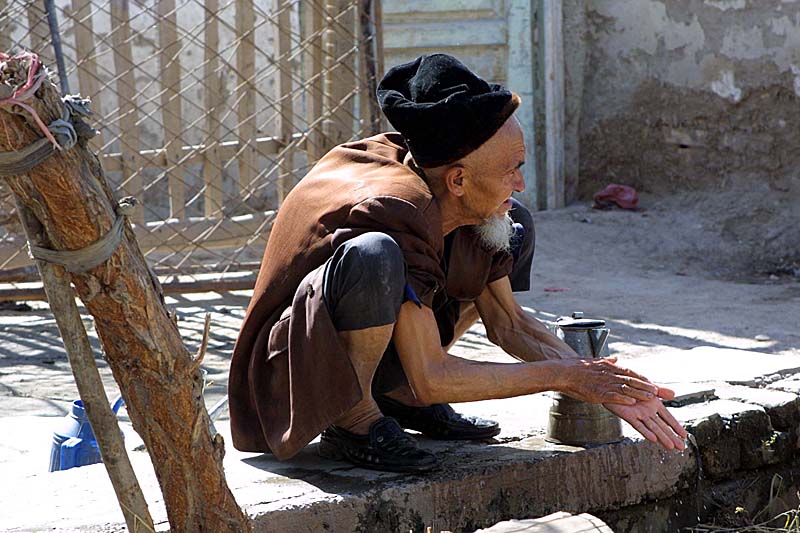 Oh yes, I was taking a picture of the entrance to the mosque and I heard the muezzin calling out the prayer-time bit and I looked more closely and here's this guy on the top doing his thing. I thought that was cool ….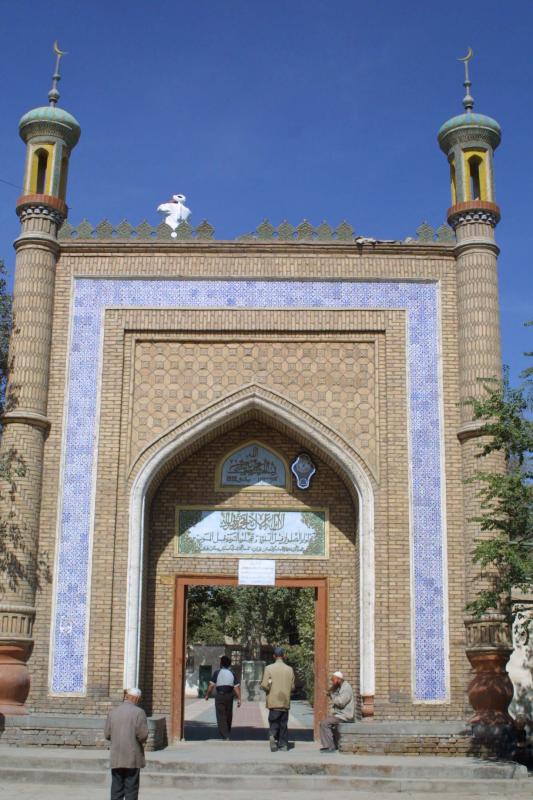 On the way back we passed a huge army truck convoy – Mechmet said they were coming back from Tibet. That could be so because on the plane to Urumqi last night, there was a pile of them and by the way they were acting, it seemed they were on leave. I asked Mechmet whether or not he liked the Chinese and he said No. I followed that up by asking whether it was because the Uyghurs wanted their freedom but he said no – it was because of the Uyghurs simply wanting to be left alone. I had been speaking with a fellow from Oregon who runs a local trekking outfit about this same issue (because at one point I was speaking with a local Uyghur and said the Chinese pronunciation of Kashgar – Kashi. He said, "No" in no uncertain terms and then followed up by saying, "The Chinese…" and he clenched his fist – implying, presumably, that they were in control, etc.) – anyway, this American, who's been here for several years, said that the Uyghur are really a peace-loving people. Yes, they resent the Chinese (I must call them the Han Chinese as they are all, technically, Chinese) but at the same time welcome them because of the economic opportunities that have arisen because of their influx. I guess that must be a bind for them – on the one hand, wanting to feel independent and, on the other, being dependent. And there hasn't been any overt trouble for the past several years – mostly noises from exiles in other countries. I've had a couple of Chinese people say to me that the minority groups are lazy, etc., – but, haven't we heard that elsewhere? Our own indigenous people, the American black, etc. From the little I've seen, however, the Uyghurs and other groups in the Kashgar area are just as hard working as anyone else I've seen – and just as entrepreneurial as well. Just ask me as I've tried to cut deals with some of them! Oh yes, bargaining ….
(Since this writing, the political and social situation has changed considerably [one could even say drastically] as the government continues to assert their control over ethnic groups in China, e.g., the Uyghurs as well as the Hui population, another Muslim group. Edited June 7, 2021)

As I was checking out of the hotel in Kashgar yesterday, the housekeeper checked the room and said that there was a hanger missing. Well, they didn't know the word for hanger; I kept saying that I didn't steal any towels…No, not towels and finally one of them took his jacket off, put a broom handle across the top through the shoulders and showed me what they meant! I said, show me – we walked back to the room and there were only two pant hangers there whereas their inventory stated there should be three. Well, with the kind of pants I wear while travelling I certainly don't have any need for those kinds of pants hangers let alone wanting to take one with me! The desk clerk was sympathetic and apologized smilingly. A three star hotel and yet I had to run the water for about fifteen minutes in the morning before getting any hot water as well as being accused of stealing a pants hanger!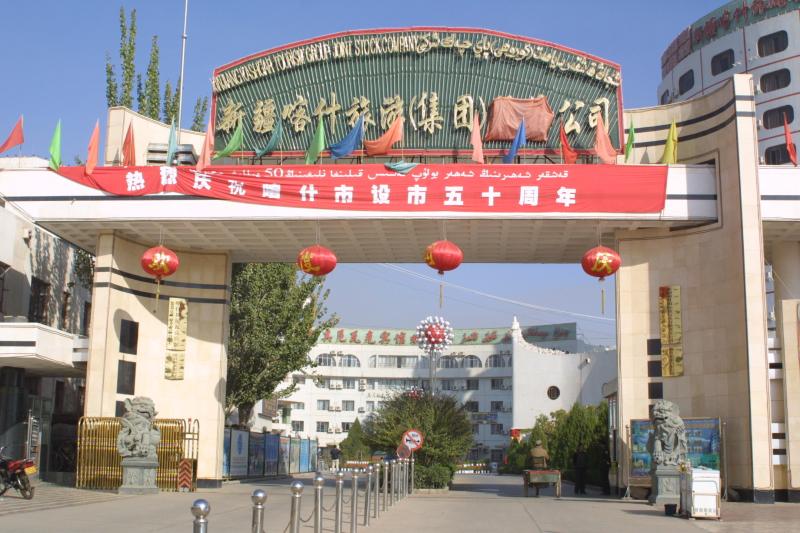 Their hotel business will die right down at the end of this month for about four months while winter sets in. Their busiest time is during the weekend when all the tour groups come in for the Sunday Market and the week I was there was their busiest ever as the Chinese National Day holiday was winding down. Oh yes, there's a building at the back of the hotel which used to be the British consulate back in the early 1900s. It's now a restaurant of some sort. It was interesting to see the English style however.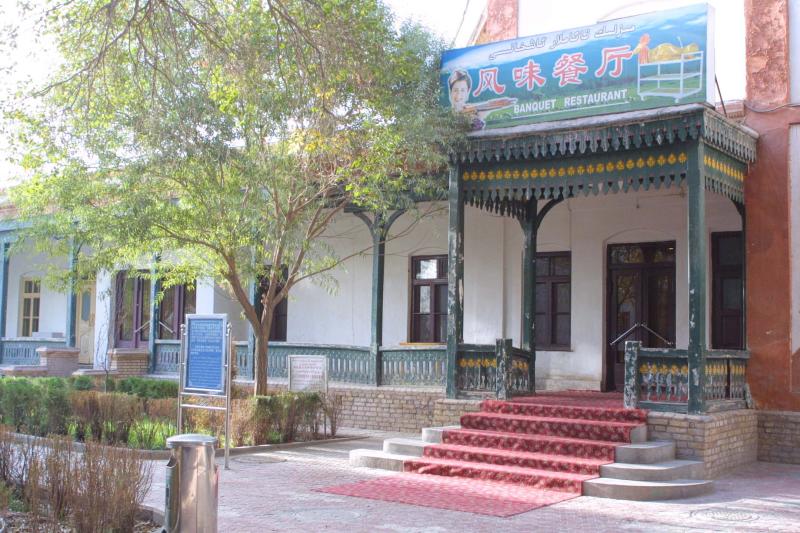 I guess I've been lucky in not having witnessed any major accidents in all my visits to China but yesterday's made up for it. A truck and the bus to Yarkand collided and they both were smashed to hell on the highway and lying on their sides. Fortunately it occurred some time before we got there – at least the human toll had been cleared away. What a shame but I don't wonder that it happened, the way these drivers go at it. Both my drivers (the guy to Tashkurgan and yesterday to Yarkand) have this habit of speeding up like hell then shifting into neutral and coasting until it seemed they were coasting almost to a stop. Then they'd go at it again! They didn't do this all the time but quite a bit – after a while I simply gave up being frustrated. What can you do? My guy Mechmet yesterday was really enjoyable – he'd sing along in his high pitched voice as we listened to the blaring Uyghur music – to my ears a cross between Pakistani or Indian music and disco rock. Hmmmm…. That's almost as bad as having to hear the ubiquitous cell phones here with their Tchaikovsky ringtones – my travel agent today had Jingle Bells on hers! Grrrr…

And I'm pissed off by airport bureaucracy. I had bought a couple of really small lovely knives as souvenirs, with their sheaves – all the local Uyghurs wear them and this city is famous for them – and had packed them in my bag to be checked through. Well, they wouldn't allow it – I had to open my bag, show them and then not be permitted to check them through (even though they weren't in my carry-on). Well, no amount of my "persuasion" was going to change this guy's mind and, after swearing at him in both English and in the only Chinese word I know – he was Uyghur, he didn't understand what I was saying, I hope! – I handed them over to my driver Mechmet with some money for postage and he promised he would send them on to me. While I was waiting to board he came back and said that he'd checked with the post office and it would take about twenty days to get back to Canada – so it's something to look forward to. That was nice of him to go to that extra trouble. I trust this guy (how else can you operate with people?) 'cause we'd spent the day together and seemed to have established a good relationship. If they don't arrive… well, don't buy knives in Kashgar and expect to get on a plane with them even though they're in your checked luggage. (Note: the knives arrived safely. Edited June 7, 2021) Oh yes, I might also be persona non grata in China: after that incident, I was waiting to check through security when some guy with a huge video camera started to take pictures of the guy in front of me – sure he was. I turned my back on him and then he appeared again taking pictures of people going through the security check. I was tempted to give him the finger but I thought better of it. So perhaps now I'm considered a terrorist by the Chinese authorities and they're following me wherever I go. Oooooh, I should be so infamous! I wonder how long I'll remain on their files!

I've had a full day's rest today in Urumqi – never even left the hotel to go outside. However, I spent most of the day making arrangements with a local travel agent who had helped me before. So now my plans are made straight through back to Beijing – I'll arrive there on the 19th. I'm going to spend several days in Xiahe, the second largest lamasery in the world after the one in Lhasa, Tibet (and, no, for you wags it is not a place where they raise lamas as one American I spoke to thought!). I'm looking forward to simply hanging out there for a while.

So I'll now head back into China – it really has felt as if I've been away from it for a while and I'm glad of the experience for the past while. I bus to Turpan tomorrow for a couple of days, then the night train to Dunhuang, then fly to Lanzhou and bus to Xiahe, then onto Beijing. A few days there where I'll once again take in the Great Wall and Forbidden City and visit with Lucy's friends and family (in fact, one of her friends' husband heads up the National Center for Science and Technology Evaluation and he'd like me to speak to his group on Technology Management, which I think I'll do, of course). So I hope my time there will be relaxing.

Until then, all the best. I've got loads of pictures to show you and I'm looking forward to sharing them with you.

Take care of yourselves.

Love, Dad, Grampa, Lu.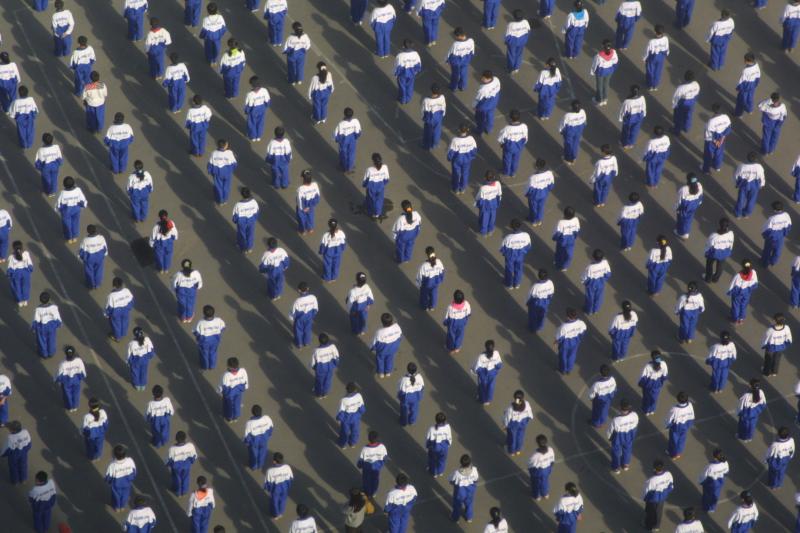 View from my hotel room in Urumqi – girls from local high school exercising